Trilei kopen?

Vibrerende eitjes zijn kleine vibrators die kunnen worden ingebracht in de vagina of de anus. Vaak hebben ze een (draadloze) afstandsbediening, waardoor ze bediend kunnen worden door je partner (of door jezelf natuurlijk). Een vibrerend eitje wordt ook wel vibratie eitje of trileitje genoemd.
Van waar die naam?
De naam zegt het al: Een vibrerend ei is een kleine vibrator in de vorm van een ei. Je kunt ze met een (draadloze) afstand bediening "besturen" waardoor je ze uitstekend als stel kunt gebruiken in het voorspel, maar ook tijdens het stappen, op het strand, tijdens het shoppen, in de bioscoop.

Bij een draadloze afstandbediening bepaalt je partner wanneer het door jou binnengebrachte trileitje aan gaat en welke trilsnelheid en of patroon. Alleen jij en je partner weten wat er tussen je benen afspeelt. Heeeeel spannend.
In het Engels worden deze apparaatjes ook wel 'bullits' (kogels) genomend. Ze zijn vaak heel klein en daardoor geschikt om in te brengen. Het gebruik van glijmiddel wordt altijd aanbevolen.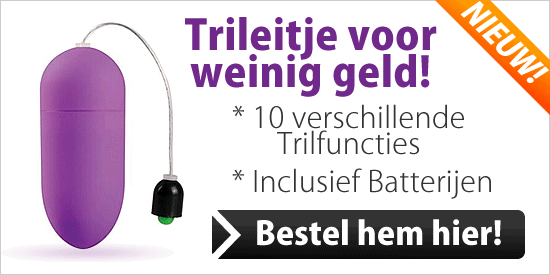 Dat kan zowel bij de vrouw als bij de man. Een vibrerend ei is ook erg geschikt als sexspeeltje als jullie nog niet veel ervaring hebben met sextoys en afgeschrikt worden door de soms grotere vormen van andere seksspeeltjes, zoals vibrators of dildo's.
Bovendien kan een vibrerend ei worden gebruikt tijdens masturbatie. Voor de liefhebbers zijn er ook strap-ons (voorbind dildo) met ruimte voor een ei.

Er is een groot scala aan eitjes te koop van verschillende materialen, zoals siliconen, metaal of plastic. Metalen eitjes glijden makkelijker maar zijn wel iets zwaarder. Plastic eitjes zijn vaak het meest voordelig en siliconen trileitjes hebben meestal het beste draagcomfort.